Yoga, Dance and Relaxation for Men and Women

8th-13th July, Kithnos
A luxury holiday experience in stunning surroundings with soulful and nurturing movement practices, delicious and nourishing food, stargazing, dream-weaving, laughter and song. Be nourished and revitalised on all levels
Andy and Einat are experienced retreat leaders and find great joy and meaning in bringing people together in community where everyone can connect, relax, rest, laugh, stretch, dance, give and receive and find balance.
Give yourself the gift of 5 gorgeous days of yoga, dance, shiatsu, reiki and meditation. Return to the light-hearted, care-free space within you. Reset and refocus your energies to make the most of the rest of 2019.
The Retreat Centre
You will stay in beautiful 3 bedroom villas, each with 2 bathrooms, a living room and a terrace overlooking the ocean. Yoga, movement and massage sessions will take place beneath the shade of a bamboo pergola in the gorgeous yoga shala.
There will be so much time to chill out by the infinity pool, get a massage, watch the sun sink into the sea, or venture out and explore the beautiful villages, beaches and landscapes and the natural spas of the island. There's a good chance we will even have a beach all to ourselves, just minutes away from the retreat centre!
£949 or €1115 for twin room
£1120 or €1315 for single room

Secure your place with a non-refundable deposit of £200 or €250. Contact Andy or Einat via the Contact form above to register.

Included
– 2 yoga sessions a day with opportunities to learn shiatsu and dance
– Two delicious and nutritious vegetarian meals a day, brunch and dinner, snack and unlimited herbal teas and water
– A transfer from the airport to the hotel, including the ferry is also included in our stay.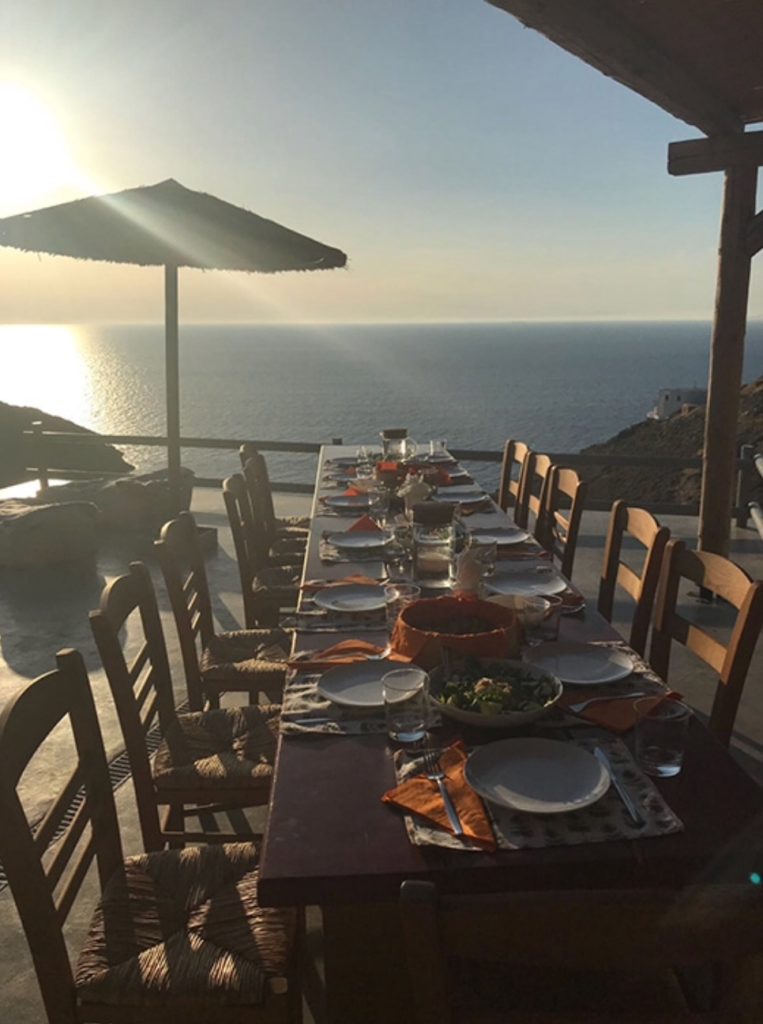 A typical day

8.30am Yoga
10am brunch
Free time
Optional workshops in shiatsu, dance on Tuesday and Thursday
5pm Yoga
7pm Dinner
*subject to slight changes
What have you heard about Yoga?
That it helps with physical needs?
It fulfils the wish for a healthier, more flexible and stronger body?
Maybe that it helps the mental state? That it can help reduce stress, tension, and also symptoms of depression?
Or that is about spiritual growth? That it encourages a thirst for knowledge about the Self, leading to a sense of fulfilment?
The truth and beauty of Yoga is that it combines all the above to create a holistic experience.
Working on the physical, mental and emotional level, we acquire tools to develop deep peace and awareness in our lives.
Andy and Einat's yoga is mindful, physical, flowing, subtle and meditative. Sessions combine conscious, dynamic movement with breath work, ancient wisdom of yoga philosophy, relaxation and meditation.
Shiatsu
Shiatsu uses stretches, joint mobilisation, acupressure and holding to bring the body into a state of deep relaxation and support and balance vital life-force energy. In this space the body is able to better balance and heal itself.
A workshop session will give you the opportunity to learn and practice simple techniques in this powerful bodywork.
Einat Ran
Einat is a teacher both of yoga and sacred dance, ceremony facilitator and craftwoman. She shares her teachings to assist in the awakening of women to their divine nature. Her aim is to support harmonious living between women and men. Through her life's work and devotion she has guided hundreds of women to get in touch with their heart's desires and meaning in life by listening to the wisdom that arise from within.
Einat teaches internationally and enthusiastically, meeting women from all over the world to share her knowledge of a path of devotional sacred dance, yoga and meditation, forming a vocabulary of moving prayers to cultivate and embody blessings.
Reach her at www.einatfreedomyoga.com
Andy Butterfield

Andy has journeyed through various styles of yoga and folds elements of these, along with his shiatsu bodywork experience into a mindful flow practice.
Breath is central in Andy's offering. He teaches that it is the most powerful tool to nourish, enliven and restore. In class, we are repeatedly invited back to its flow and its fullness. And so we come to dwell in the present moment and begin to understand that in this space, we receive everything we need, effortlessly. As we move and open and stretch our bodies, breath and energy (prana) expand to fill the new spaces opening up.

Sometimes his classes focus on the creation of space, and other times, we work hard with strengthening and empowering practices to burn off what isn't serving us and feel the joy in offering more than we thought we could.
Learn to inhabit your body more fully, relaxing into it with deeper compassion, appreciation and contentment.