In this extra special workshop experience, shiatsu therapist Andy Butterfield and international dance teacher Einat Ran join forces to take you on a joyful and healing journey that will enable you to feel your lifeforce energy flowing through your body, raising your vibration, dispelling stress and bringing you back home to your vital and alive self.
Einat has danced her way around the world and will share with us some of her favourite, most spirited and uplifting dances. These dances have been a means for people to express themselves and honour and celebrate life for many years. They allow us to connect with our passion, our freedom and our joy.
After immersing ourselves in fun and freeing movement to soulful music, we will flow into the relaxing, grounding and connecting experience of shiatsu. Stretches and massage will help release tension, stiffness and blockages so that your life-force energy can expand. You will work with different partners and share easy but effective techniques to help the neck, shoulders, back, hips, chest and breath.

No experience of dance or massage is necessary – just the willingness to try something new, let go a little bit and play!

£38 early bird (just 6 tickets at this price)
£47 thereafter
£55 on the door

https://www.outsavvy.com/event/3753/whirl-and-shine-tickets

Saturday, November 30th
2.00pm to 6.00pm
Edmund Kean Studio
RADA Studios
Chenies Street

Near Goodge Street station on the Northern Line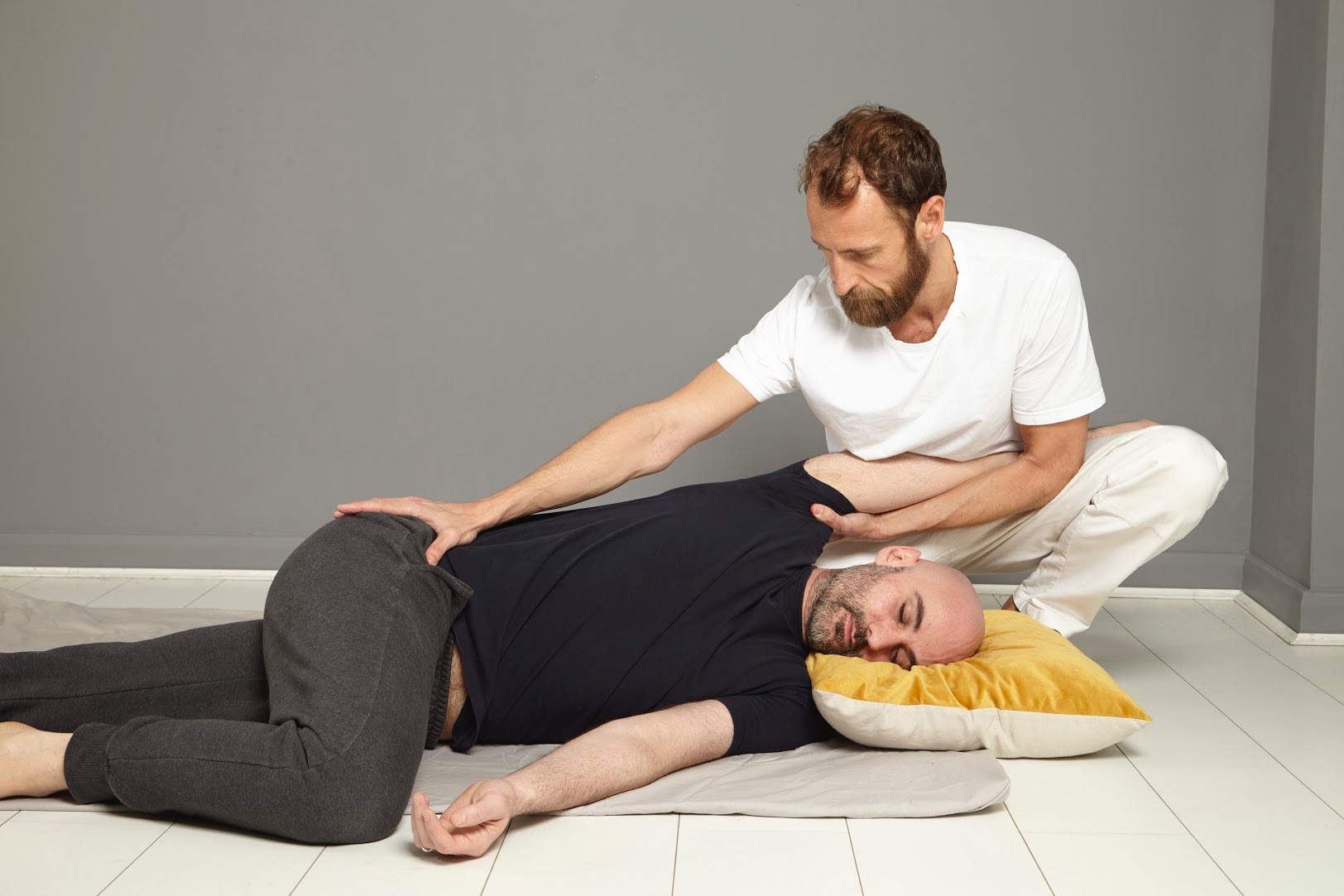 Shiatsu is a powerful form of therapeutic bodywork, originating in Japan. It uses a variety of techniques such as stretches, joint mobilisation, acupressure and holding to bring the body into a state of deep relaxation and support and balance vital life-force energy. In this space the body is able to better balance and heal itself. No previous experience is necessary but you will need to be able to sit and kneel in comfort. You do not need to bring a partner as you will work with different people in the class. You will remain fully clothed so please wear warm, loose, comfortable clothing.

Andy is a tantra yoga teacher and shiatsu therapist in London and Brighton. His approach is about finding more joy and wisdom in the body. He loves to hold safe, fun and meaningful spaces for gay, bi and queer men to come together in community and connect in friendship, intimacy, joy and healing. (www.andybutterfield.com)

Einat is a dance and yoga teacher from Israel and has guided hundreds of people to get in touch with the meaning of their lives and their hearts desires through listening to the wisdom within that arises through movement."I'm thrilled to return to London and meet more people who are ready to open up for these inspiring teachings and reclaim their power and passion in life. I'm honoured to share what I've learned from rare and amazing teachers around the world."