Tantra Yoga : Shamanism : Massage : Reiki – 22nd to 27th September 2020
Let's set about the business of becoming more available to the Life and Love within!
Tantra is Empowerment. Tantra is Healing. Tantra is Freedom. Tantra is Transformation. Tantra is Realising Potential.
Tantra invites us to grow, to unfold into the truth of what we are capable of as abundant and creative beings of love, light and life. The practice of its teachings expands us into our potential. We can become our most fearless, creative, courageous, confident, loving, honest, wise selves and we realise we are in reach of everything we could ever need. It's all inside. Tantra enables us to uncover this truth through the body and through the heart.
'You are the one you have sought for so long.' Jeff Foster
Join Andy Butterfield and Robert Van Ravens on this retreat for gay-bi-queer men and immerse yourself in embodied practices that awaken our raw, potent life-force energy and expand it through the body. 
Through yoga, breathwork, shamanic practice, ritual and ceremony, massage and reiki, this life-force vibrates and trembles with more and more pleasure and vitality and our perception of what the body is capable of widens. We begin to access more of what's available to us and as our inner resources emerge, we can stand in deeper, richer, higher consciousness. We receive much more of our selves. 
'You are not a drop in the ocean. You are the entire ocean in a drop.' Rumi
Tantra also brings us into relationship with others and we all become each other's mirrors, teachers, guides and gifts. Energised by lifeforce, the heart opens and can truly know itself as boundless in its capacity for compassion, generosity and love. We light the way and lead each other home.
This retreat is for you if:
You are looking to integrate your sexuality and spirituality and open up to a deepening awareness of who you are
You love the idea of getting back to nature, feeling the sun on your naked skin, wild swimming, roaming through woodland, stargazing and sharing around the fire pit
You want more intimacy with like-minded, warm-hearted gay and bi men and to experience the joy, connection and healing that arises in community
You want to enjoy and celebrate your body through movement, touch and massage
You are looking to expand your awareness of what your body, mind and spirit are capable of
You are working on healing from negative experiences regarding your sexuality and/or you are interested in better sex, with yourself and with others
You are ready for an adventure, to take risks, grow beyond your comfort zone and discover new ways of delighting in who you are
A typical day:
8am* functional fitness and yoga
9.30am breakfast
11.30am reiki attunements on Wednesday 
1.30pm lunch
5pm tantra
7pm dinner
The schedule may be subject to change.
*The yoga and functional fitness will be for active beginners and improvers so you will need to be relatively fit, healthy and active. Andy draws on his experience with functional exercise and hatha vinyasa yoga to instruct in a mindful, flowing practice that is both subtle and physical.
THE VENUE
Cortijo El Cachete is a stunning new venue for retreats and gatherings. Nestled in the olive groves of the Andalusian countryside, yet only 50 minutes from Malaga airport, it is a perfect secluded hideaway for our work. You'll enjoy
A huge 20m long swimming pool
Ensuite bedrooms
Beautiful gardens and intimate courtyards where you can relax in the sunshine
Hearty, delicious and nourishing plant-based cooking by a wonderful Chef
A rich programme of learning and practice but also plenty of time to rest, relax and reconnect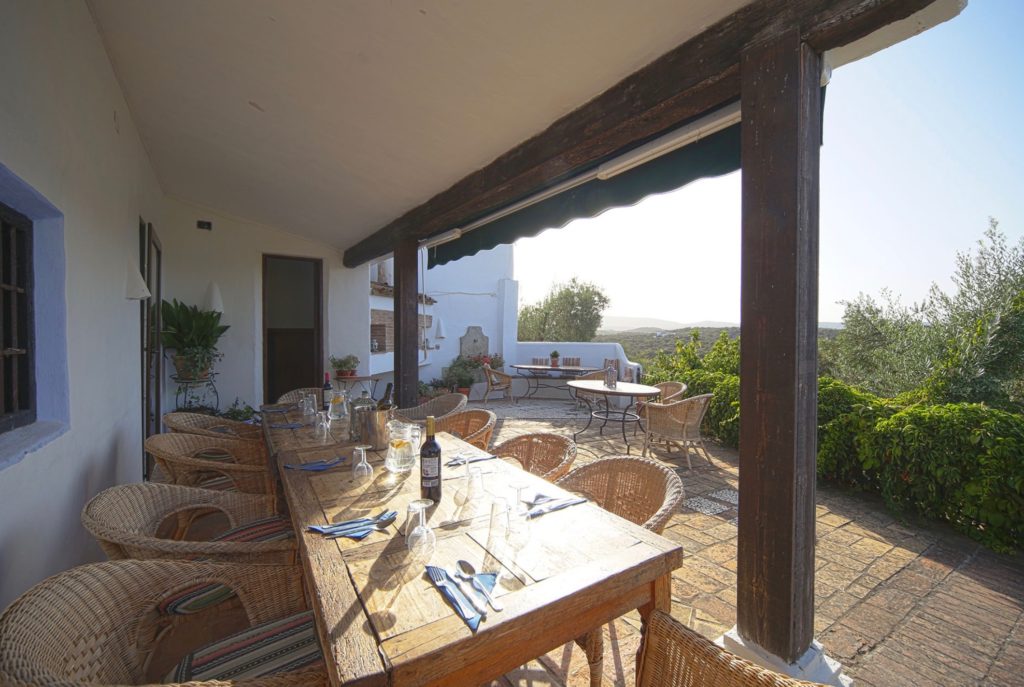 INVESTMENT
Most rooms are single occupancy and have a double bed. Some have single beds and will be allocated last.
£1095 early bird price
£1295
Beautiful Master Bedroom with terrace:
£1195 early bird price
£1395
Twin room based on two sharing:
£995 early bird price
£1095
Secure your place with a non-refundable £300 deposit. Payment plans are available. Contact Andy via the form above or on 07968 846610.
INCLUDED
– 2 yoga and tantra classes per day
– Reiki level I
– Three delicious and nutritious vegetarian meals a day, afternoon snack and herbal teas and water
– A transfer from the airport to the retreat centre is also included in our stay
– A massage therapist will be available for sessions
REIKI
Reiki is a simple, natural and safe method of spiritual healing, self-regulation and self-care.
Through reiki, we receive the lifeforce energy around us, the energy that flows through all living things, the energy from the sun and the cosmos, the oceans and the earth. This balances and strengthens our own lifeforce.
Our is lifeforce is responsive to thoughts and feelings. It becomes disrupted by negative thoughts or feelings we hold about ourselves. These negative thoughts and feelings attach themselves to the energy field and cause a disruption in the flow of life force. This diminishes the vital function of the organs and cells of the physical body.
Reiki heals by flowing through the affected parts of the energy field and charging them with positive energy. It raises the vibratory level of the energy field in and around the physical body where the negative thoughts and feelings are attached. This causes the negative energy to break apart and fall away. In so doing, Reiki clears, straightens and heals the energy pathways, thus allowing the life force to flow in a healthy and natural way. Reiki is extremely helpful in working with Tantric Energy and supports the expansion and growth that comes with it.
THE ATTUNEMENT
The ability to channel Reiki energy is transferred to the student by a Reiki Master during an attunement process.
By receiving an attunement you will gain a valuable tool for self-healing and self-regulation and also become part of a group of people who are using Reiki to share peace, love and expand universal consciousness with others and the Planet. It is a beautiful, relaxing and deeply nurturing experience and I am delighted to be able to share it with you.
(With thanks to Miguel Chavez at www.reikimaya.com and his manual for Reiki 1 and 2, the Usui System of Healing).
BIO
Andy is a shiatsu therapist, tantra yoga teacher and Reiki master and folds these disciplines into his teaching to help his students tap into the great intelligence, power and creativity of the body. He is passionate about creating community and holding a safe, relaxed and meaningful space for gay and bi men to meet and explore intimacy, connection and joy.
He has taught many retreats and workshops around the world and is based in London and Brighton, UK.
Please contact Andy at andybutterfield@icloud.com or via the Contact page for more details